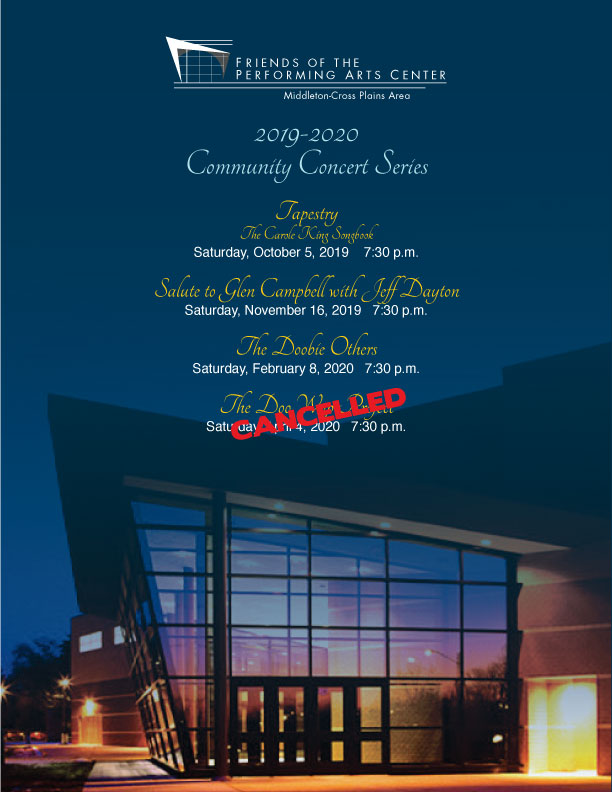 Saturday, October 5th, 2019, 7:30pm
Tapestry, The Carole King Songbook
Tapestry, the Carole King Songbook with Suzanne O Davis, is the Premier musical tribute to Carole King.
This show recreates the sound and vibe of a 1970's Carole King concert experience following her legendary album, Tapestry. You will be transported back to the iconic image of her multi-million selling album of 1971.
Impeccable attention to detail is taken in recreating a respectful and accurate musical presentation of piano and vocals, just as they were. Suzanne's performance will take you on a journey back to those great recordings.
Tapestry not only presents the record-breaking, Grammy winning album of the same name, but is a retrospective of the iconic songwriting team of Goffin and King, and her hits that continued into the 70's. This prolific team wrote chart-topping hits for artists such as Aretha Franklin, Bobby Vee, The Beatles, James Taylor, the Drifters, Donny Osmond…and the list goes on.
You will feel the Earth Move under your feet with this show.
Saturday, November 16th, 2019, 7:30 pm
Salute To Glen Campbell with Jeff Dayton
Jeff's 15 years as bandleader and guitarist with Glen Campbell were filled with shows, adventures and stories as they traveled and recorded together. Glen remains one of America's best-loved and most-respected country/pop artists of all time, and since his Alzheimer's battle and recent passing, there's been a demand for his music to still be heard. Jeff has been answering that call with Salute to Glen Campbell, on tour now.
The show is filled with Glen's hits, led by his former right-hand man.
Saturday, February 8th, 2020, 7:30 pm
The Doobie Others
There's no one in the industry today that can recreate the sound and style of the world-famous Doobie Brothers like the Doobie Others can. Seven of Long Island's top professional musicians have pooled their talents, years of performance experience, and their love of the Doobies to become the very best Doobies tribute show in the country today. Inspired by the Brothers superior song writing, the Doobie Others deliver powerful harmonies and a fun filled high energy performance covering a catalog of Doobies hits.
Yes, the Doobie Others masterfully play them all, from Listen to the Music to What a Fool Believes, from Long Train Running to Minute by Minute, from Black Water to Takin' it to the Streets, and all the rest. If you have a favorite Doobies tune (and everyone does) it will surely be included in this Doobie Others Tribute Show, a show that's certain to delight and provide great entertainment to folks of all ages.
Saturday, April 4th, 2020, 7:30 pm. CANCELLED
The Doo Wop Project
The Doo Wop Project begins at the beginning, tracing the evolution of Doo Wop from the classic sound of five guys singing tight harmonies on a street corner to the biggest hits on the radio today. In their epic shows DWP takes audiences on a journey from foundational tunes of groups like the Crests, Belmonts and Flamingos through their influences on the sounds of Smokey Robinson, The Temptations, and The Four Seasons all the way to DooWopified versions of modern musicians like Michael Jackson, Jason Mraz and Maroon 5. Featuring stars of Broadway's smash hits Jersey Boys and Motown: The Musical, the Doo Wop Project brings unparalleled authenticity of sound and vocal excellence to recreate—and in some cases entirely reimagine—some of the greatest music in American pop and rock history!
DUE TO RECENT HEALTH CONCERNS WITH THE CORONAVIRUS, THIS SHOW HAS BEEN CANCELLED.