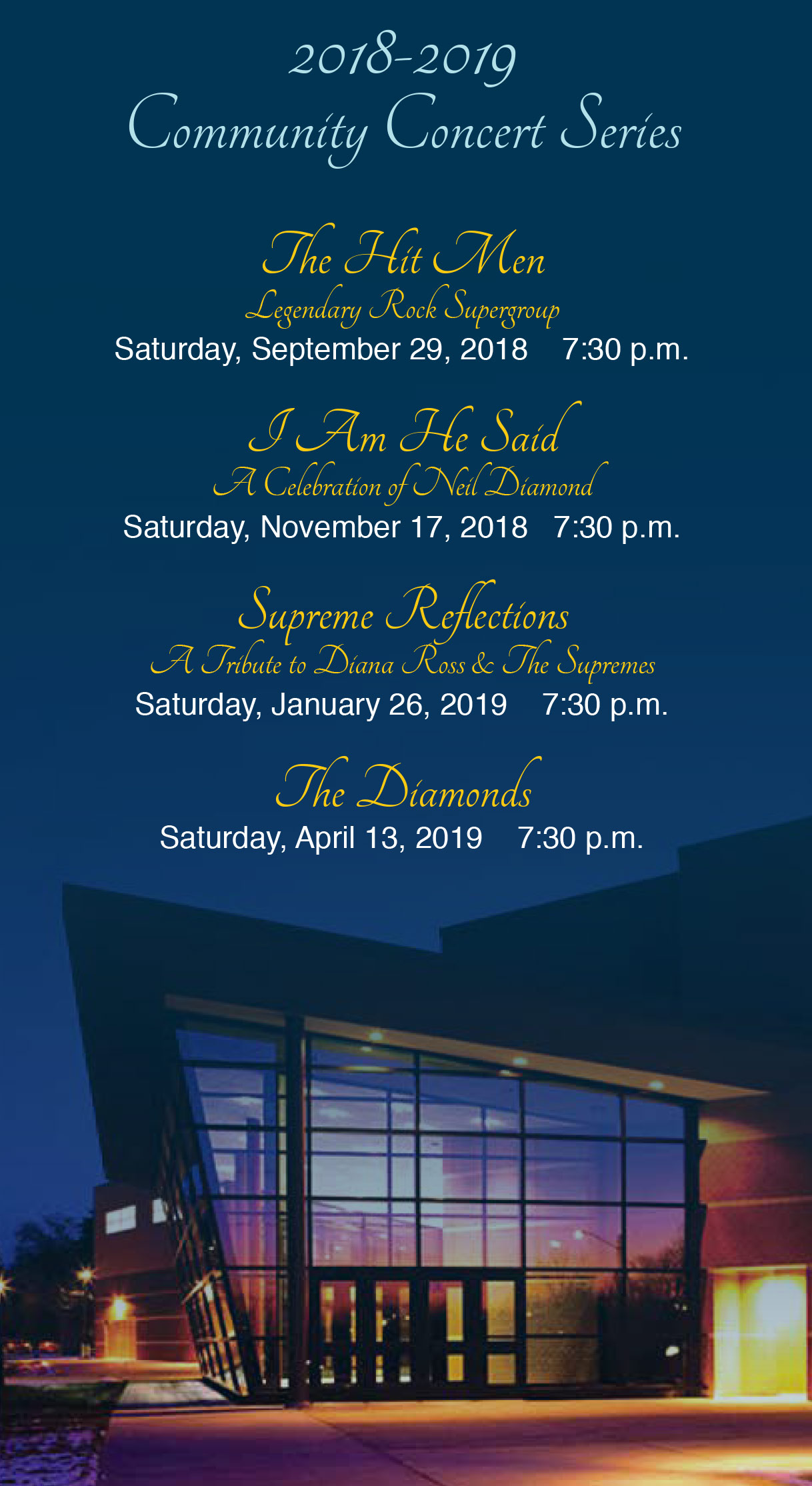 saturday, september 29th 2018, 7:30pm
The Hitmen - Legendary Rock Supergroup
Take a star-studded journey through rock & roll history with these legendary performers who sang, played or recorded with some of the biggest names in the music biz: Elton John, Carole King, Cat Stevens, Jim Croce, Carly Simon, Frankie Valli, as well as members of Journey, The Rascals, Three Dog Night, The Turtles and The Who. Not a tribute band, The Hit Men are the actual musicians and singers you heard on the original records, listened to on the radio, watched on TV or saw in concert. In this fantastic Hit Men Live multi-media show, they bring on the hits by artists they have performed with on stage and in the recording studio -- songs like "Don't Stop Believing," "Who Loves You?," "Pinball Wizard," and "Joy to the World." Plus, they'll take you behind the scenes with "insider" stories about what it was like on the road and in the recording sessions with rock royalty.
Saturday, November 17th, 2018, 7:30pm
I am, He Said - A Celebration of Neil Diamond
This tribute to Neil Diamond stars Matt Vee, nephew of 60's Pop Star Bobby Vee. With songs like "Cracklin' Rosie, Song Sung Blue, and Sweet Caroline, Neil Diamond sold over 100 million records world-wide, and produced musical hits spanning five decades.
Saturday, January 26th, 2019, 7:30pm
Supreme Reflections - A Tribute to Diana Ross & The Supremes
A loving tribute to the music of Diana Ross & The Supremes. The music of Motown is ever enduring and you'll be singing along and dancing in the aisles to the timeless music of the world's most popular and beloved female vocal group.
Saturday,April 13th, 2019, 7:30pm
The Diamonds
The Diamonds released an instant million selling hit in 1957 called Little Darlin'. Since dubbed the National Anthem of rock and Roll, the song soon went gold and led to a career that saw the group appear on American Bandstand 33 times and be inducted into both the Doo-Wop Hall of Fame and the Vocal Group Hall of Fame. Little Darlin' was soon followed by two more gold records, The Stroll and Silhouettes. All three have been featured on soundtracks of the movie American Graffiti and the mid-70s television hit, Happy Days.